We're pleased to announce that we'll be managing the press office for Box On The Docks, a new unique dining and arts experience at MediaCityUK, which begins with a weekend of soft launches on 24th – 26th July and officially opens to the public on Friday 31st July.
Visitors will be able to choose from one of their favourite MediaCityUK restaurants – Grindsmith, The Dockyard, The Alchemist and Vertigo – and book to dine within one of the specially created pods on the waterfront, with seating for two to six people.
With support from Salford Culture and Place Partnership, a selection of the dining pods have been specially curated by local artists – from up-and-coming students to established collectives - and will feature light and sound installations, murals, graffiti, poetry and much more.
To add to the incredible experience of this unique concept, Box on the Docks have also worked with BBC Sounds so that visitors to MediaCityUK can immerse themselves in the popular mindful soundscapes or a range of music mixes available on the app through listening via Bluetooth connection whilst using the boxes. No matter what their taste, visitors can choose a soundtrack to accompany their time using Box on the Docks.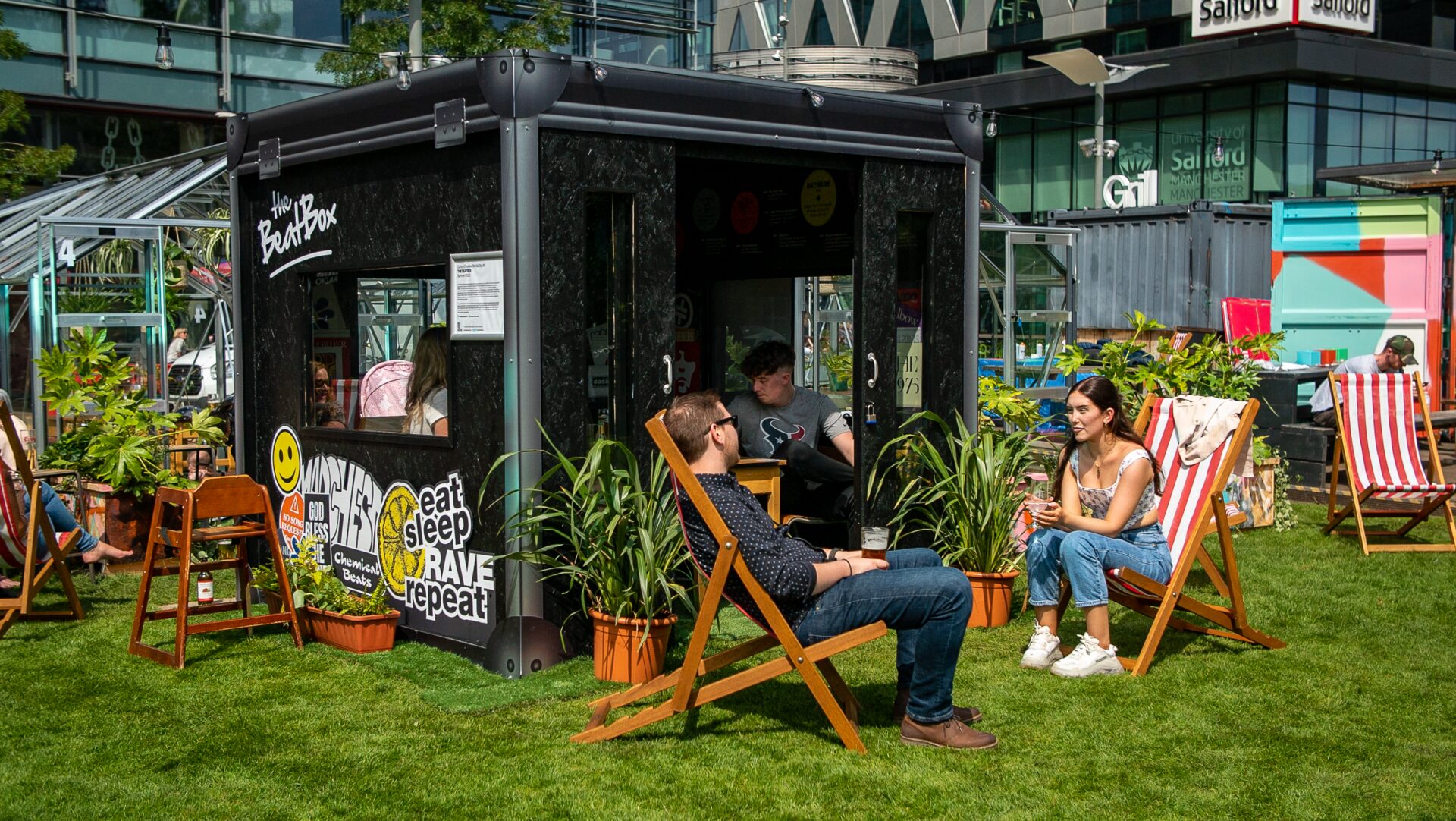 Enjoy an award-winning Grindsmith coffee in a box designed by creative collective Manchester Street Poem, who have brought their vision to life through art and storytelling with positive poems focusing on community, friendship and our heroes. Multidisciplinary artist Tasha Whittle has also created a Grindsmith box, based on the theme of nature and using bold and uplifting colours. Grindsmith will be offering boxes on a first come first served basis so, to grab a coffee, cake, ice-cream or smoothie head over to their VW camper van in the MediaCityUK gardens.
Visitors to popular cocktail bar, The Alchemist, will be able to sip their signature theatrical cocktails on the waterfront in sheds and greenhouses designed by three local artists. Salford based arts experts, Walk The Plank, have crafted nautical themed boxes based on the history of the docks and the ships that sailed in from around the globe. Quays Culture have created a neon spectacle from artist, Jonathan Lang, and joining them will be Kieran Leach & Sam Frost from independent studio Paradise Works who have created a conceptual graffiti pod.
Plant-based eatery, Vertigo - who are delighted to announce the opening of their third site at MediaCityUK - will be serving from Monday 3rd August in boxes designed by artists Sally Gifford and Rivca & Jack. Islington Mill-based, Sally Gifford's box is inspired by the popular saying "you are what you eat", encouraging diners to make the connection between diet, gut and immunity. Imagineer-wordsmith Rivca Rubin & illustrator-artist Jack McConnell are focusing on Salford's richness of diversity in their designs and inviting guests to interact with the project by writing their hopes and ideas for post-Covid-19 on placemats. Get ready to enjoy favourites such as the Peanut Butter & Sweet Potato Dhaal and ¼ Cheezeburger, along with a selection of natural wines, beers and fresh juices.
MediaCityUK-based design agency, Carbon Creative, are homing in on the musical heritage of Manchester and Salford in their designs for rustic ale house The Dockyard. Guests dining at Dockyard will be able to order via a QR code in their pod and will be able to choose from the full pub grub menu plus a variety of drinks including a wide range of craft ales, fine wines and spirits as well as plenty of soft drinks. As well as their pods, visitors to MediaCityUK will be able to stop and grab a drink from Dockyard's newly re-opened 'Box on the Docks' outside bar (open from this Friday 24th July) and relax in a deck chair.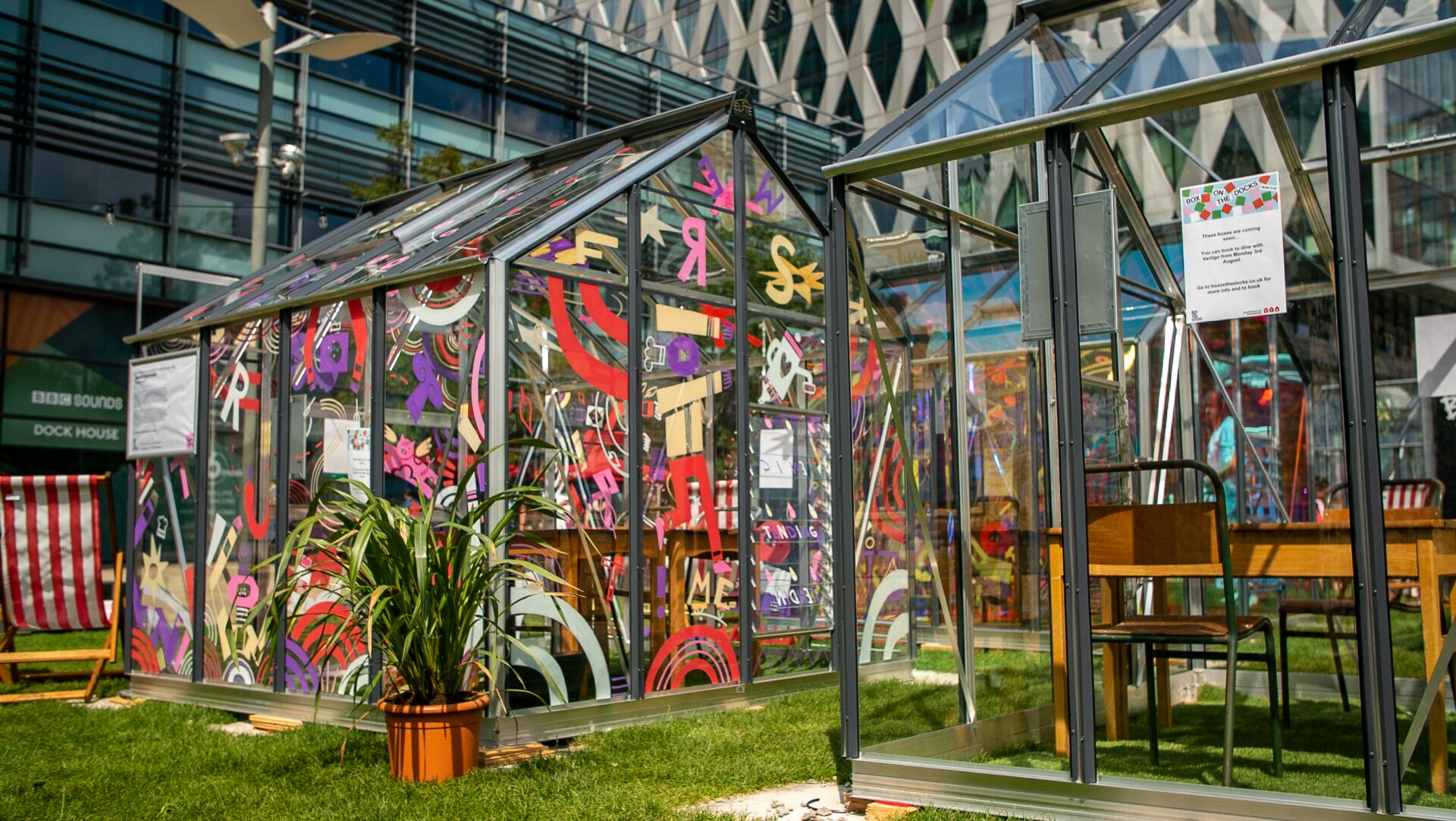 Gemma Saunders, Programme Producer from the Salford-based Quays Culture said: "Box on the Docks is a brilliant way to support artists – it's particularly pertinent after such an extended period of time with limited opportunities for work. This scheme has given us the means to work with Jonathan Lang, an incredible emerging artist working with neon. His pieces hover on the edge of art and science and his engineering background brings a different edge. Jonathan lost a big commission due to the COVID-19 so we've been able to reuse those pieces and curate a totally new space using the greenhouse on the Quays. We hope the boxes are embraced by the public - being able to safely enjoy the art from either inside the bookable space or outside as you explore the Quays is a brilliant concept and we are so pleased to be involved in this exciting project, along with many amazing Salford organisations."
Michael Jebelli, Managing Director of plant-based eatery Vertigo said: "We're looking forward to welcoming guests to Box on the Docks and to our third Manchester site at MediaCityUK, the initiative is a brilliant way to support local restaurants and cafés following being hit by the impacts of Covid-19."
With years of event and brand launch experience, as well as having an extensive Manchester media list, our team are working hard to make this new experience the success it deserves to be.
Want to learn more? Get in touch now.