The Brief
With TikTok gaining major popularity over the start of 2020 and way into lockdown, we brainstormed how we could integrate this new channel into an existing campaign and product.
The US LOL Surprise team had created a global TikTok account, but we wanted to ensure our content was viewed by a UK centric audience and decided to go down the influencer route, ensuring our demographic who are active on TikTok would see the content. L.O.L. Surprise! Lights were a new concept from the UK's best telling toy brand, this range now featured a blackout light with the characters revealing surprise neon makeup and clothing only shown when the black light hit.
Our Response
The main focus for this campaign was to secure free of charge influencer content whilst tapping into an international trend. We worked with ten micro and macro influencers who have become ambassadors for the brand and gifted them the new L.O.L. Surprise! Lights products.
We asked the influencers to create content surrounding the Flip The Switch trend that was gaining popularity on TikTok at the time of filming. The idea for the videos were that the influencers would dance around in their normal clothes to the Flip The Switch song, once the switched was 'flicked', the shot would change to a dark setting where the influencer would be wearing glow in the dark clothes. Their fashions would light up with black light just like the L.O.L. Surprise! dolls they were holding.
This concept was a great way to showcase the glow in the dark USP of the product whilst illustrating the brand as trend-led and fun.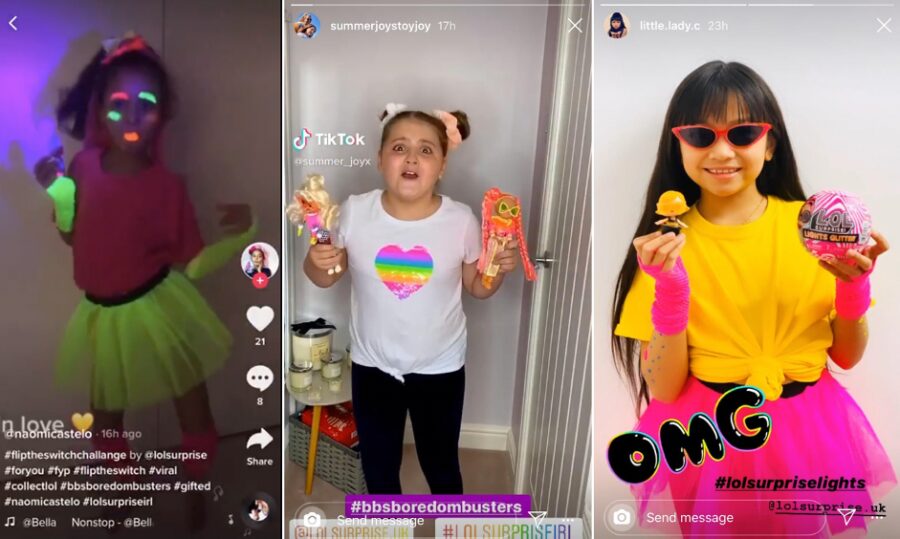 The Results
As TikTok allows creators to use popular music over their videos, we could tap into this viral trend and showcase the brand through influencer content rather than host the content on our own TikTok channel. We achieved a fantastic result with 466,000+ fans reached organically across TikTok and Instagram, and a very happy client as the cost for this campaign was extremely low.