In the early days of augmented reality filters on social media, it didn't take a lot to convince the public to try out your design and share it far and wide. Novelty value reigned supreme, with even Kardashians using the infamous Snapchat puppy filter.
Nowadays, AR has moved on.
Now that many social network APIs allow anyone to create a filter, the number of options available has skyrocketed, meaning it takes a more unique design to capture consumers' attention.
Thankfully though, augmented reality filter functionality has evolved significantly, opening up new opportunities to connect with customers like never before, using AR to offer them a more convenient, personal and entertaining brand shopping experience.
To sort the everyday from the extraordinary, we're sharing our top five ways to build smarter AR filters for your next social media or integrated marketing campaign.
1. Try before you buy
Technology advances like Lidar have improved 3D mapping and depth perception capabilities, meaning that your phone camera can better detect the edges of different surfaces in your surroundings. This allows for more realistic filters that let you try out products virtually, without leaving your home.
Pinterest recently launched 'Try on for Home Decor', partnering with US brands including Walmart, Wayfair and West Elm to allow consumers to see how an item of furniture will suit their existing colour scheme or the space in their home.
Meanwhile, makeup brand L'Oreal has integrated lipstick try-on filters into its Instagram Shopping experience, and fashion brands Farfetch and Prada have launched virtual clothing try-on filters through Snapchat. Taking this a step further, Snapchat also recently launched an AR catalogue option, letting consumers swipe through multiple shoppable products in one filter for the most convenient shopping experience possible.
2. Getting personal
Everybody loves to highlight what is unique to them. 'What's your x' style personality quizzes, from Harry Potter house to spirit animal, have long been popular on sites like Buzzfeed, but the introduction of AR filters into the mix has made the results more shareable than ever before, as the viral 'Which Disney character are you' filter proved.
Though these filters usually rely on random selection, or even self-input text, to provide an answer, that hasn't stopped videos featuring users testing them and reacting to the result becoming a huge trend on TikTok, showing the format is here to stay. In fact, the 'How do you Dance?' filter Carousel developed to launch L.O.L. Surprise's Dance Dance Dance range generated over 2.8k captures and reached over 39k people.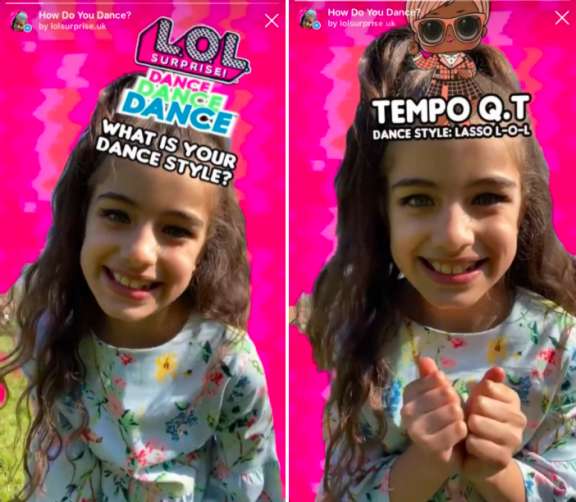 3. Play the game
Advances in facial tracking have allowed content creators to use simple mechanisms like blinking, eye-tracking or moving your head to control characters in virtual AR filter games. Taco Bell used this technique to create a retro 80s themed filter game challenging fans to cruise through a synthwave city collecting as many Tacos as they can, while Puma in India even offered fans the chance to win prizes by racking up high-scores in a pinball style AR filter game.
Beyond just offering consumers a bit of fun and a reason to like your brand, addictive game designs can increase dwell time significantly and provide multiple opportunities to reinforce brand messaging over a longer time period. Not to mention that wanting to show off a higher score than your friends makes them highly shareable, powering word of mouth referrals.
4. Be the trend
Some of the most successful AR filters gain popularity by leveraging events, trends or influencers that are already being talked about and giving fans a creative new way to express themselves and show their appreciation.
Take the Superbowl, for example, where 59 million users engaged with Snapchat filters on game day 2021, from Pepsi's dance challenge featuring full-body motion tracking, to Cheetos 'Snap to steal' filter offering a freebie snack for every snap shared.
5. Create an experience
AR filters aren't just an opportunity for social media managers. There's also an opportunity to better unite the physical and digital customer experience by integrating filter-based experiences into every part of the brand journey.
Timberland integrated an augmented reality try-on experience into its shop window, Pepsi installed AR functionality into a London Bus Stop ad to surprise consumers with an 'alien invasion', Legoland Windsor used AR to bring statues at its park to life in 3D, and energy bar brand Chaarbaan added scannable codes onto wrappers so consumers could see what they looked like as one of the characters on the packaging.
Are you ready to unlock the power of augmented reality filters to create a more immersive experience for your customers? Then get in touch.