To drive awareness in the fight against HIV, we worked with Kimpton Clocktower Hotel to initiate positive change in breaking down the stigma that remains in society today.
Star of RuPaul's Drag Race UK, George House Trust Ambassador, and Refuge regular Cheddar Gorgeous, was applauded for the powerful HIV conversation in the werkroom of Drag Race UK and used the runway to showcase their activism with a bodysuit embellished with pink triangles. Cheddar educated viewers about the realities of HIV today, including the fact that someone living with HIV and on effective treatment can't pass it on.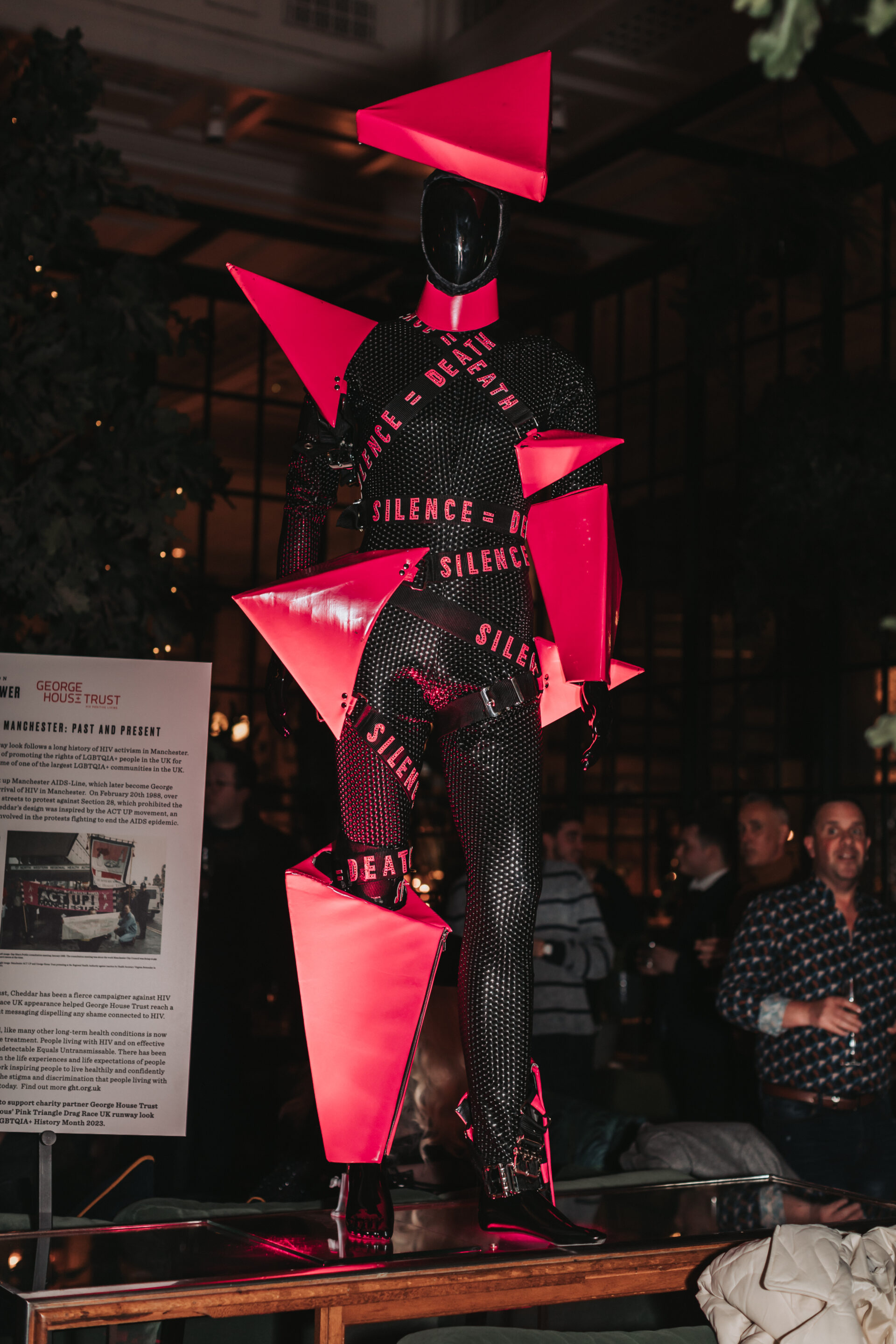 The upward-pointing triangle is a symbol used by the activist group ACT UP during the AIDs crisis – an organisation fighting to end the AIDs epidemic. The outfit also includes the group's slogan "Silence = death". The pink triangle was reclaimed from the Holocaust, when Nazis used a downward-pointing triangle to demarcate gay men in concentration camps.
Cheddar has used their platform and BBC Three's Drag Race UK to raise awareness of the virus with a younger audience and the need to challenge stigma and dispel any shame associated with HIV in the UK today, where almost 100,000 people live diagnosed with HIV. For Cheddar, whilst representation on platforms like Drag Race is important, it's imperative to ensure that these moments of recognition are translated into calls for action. The real activism is done day-in-day out by organisations working to support people living with HIV, Cheddar works tirelessly to support George House Trust in raising awareness of the charity in supporting people who live with HIV to live healthy and confident lives.
Established in 1985 by six gay men, George House Trust has been at the forefront of the HIV response in Greater Manchester for the last 38 years. While there have been tremendous progress and huge changes in the life expectancy and life experiences of people living with HIV in that time, their work continues because of the health inequalities, stigma, and discrimination that people living with HIV continue to face today.
Advancements in HIV treatment means that increasing numbers of people are growing older with HIV. George House Trust's Age+ project empowers people over the age of 55 who are living with HIV to live confidently into older age by delivering a range of events and activities, to learn new skills, discover new interests and connect with other people living with HIV.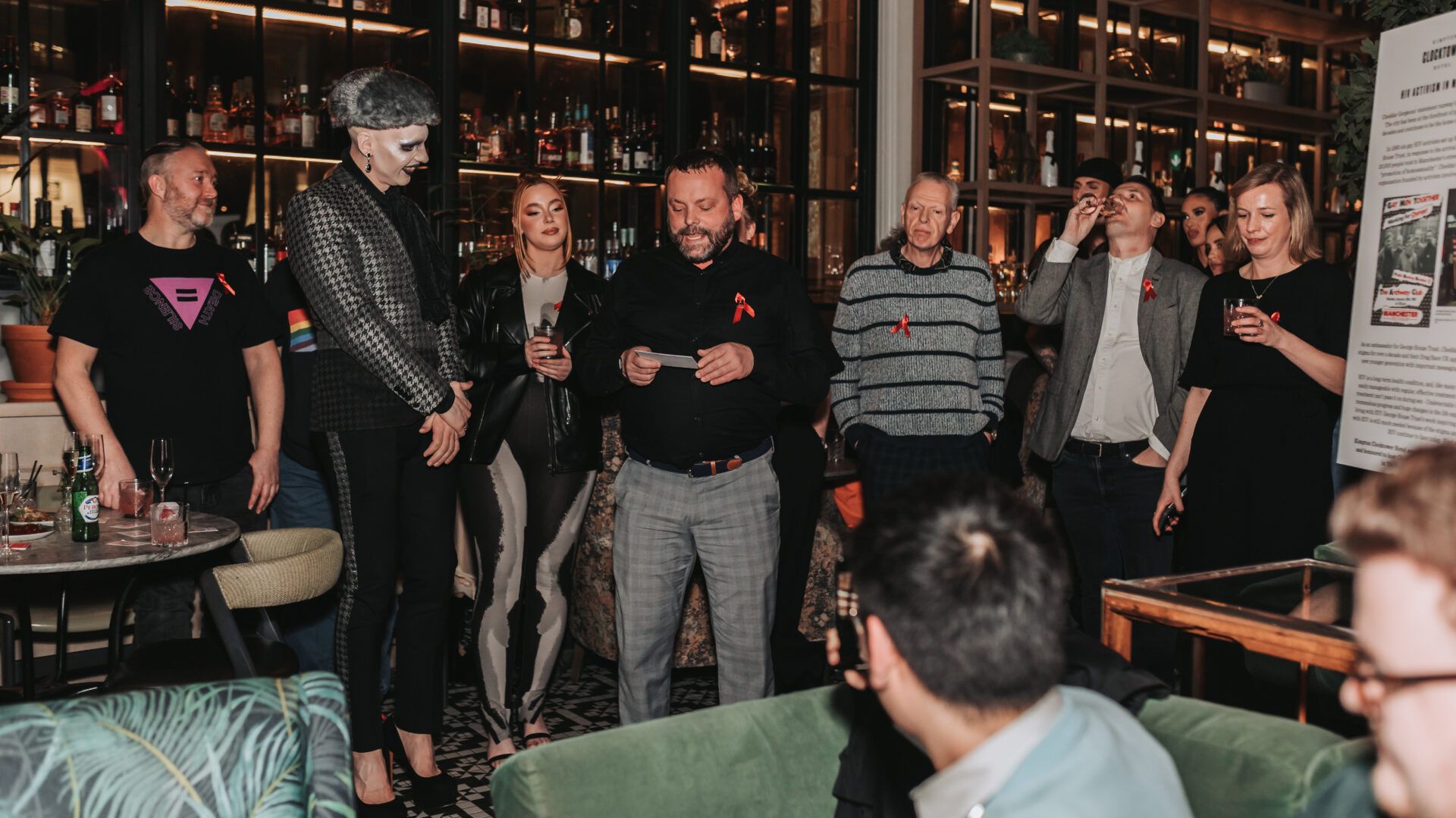 For over 41 years Kimpton has never wavered in their support for the LGBTQIA+ community – and never will. Kimpton Clocktower Hotel is passionately committed to being a place where everyone is welcomed as they are.
Commenting on the exhibit Johan Scheepers, General Manager of Kimpton Clocktower Hotel, said: "Cheddar Gorgeous has been 'Queen of the Clocktower' since we opened the doors of the hotel and The Refuge. We are very proud to display this iconic runway look and furthermore raise awareness whilst igniting positive change in the fight against HIV stigma that remains in society, by supporting our charity partner George House Trust."
Cheddar Gorgeous' 'Pink Triangle' Outfit for HIV Awareness will be installed in The Refuge throughout LGBTQIA+ history month in February.
Click here to find out how we can help with your events and drive awareness to good causes.