In March 2020, the UK went into a national lockdown – events were cancelled and long planned campaigns put on hold.
At Carousel, we pivoted, re-evaluated and changed direction. Whilst we couldn't operate an event for hundreds of guests, we could get creative with a must-see attraction (whilst staying within Covid guidelines).
As such, we turned Moda's penthouses into an exclusive restaurant.
We devised the concept of turning the penthouses into a restaurant for a series of unique supper clubs. This allowed us to host guests on site, in their bubbles, at socially distanced tables – all whilst creating news hooks, online buzz and awareness of the fantastic spaces available at Moda.
To deliver this we teamed up with Higher Ground, an independent restaurant who, after just three weeks of trading, had to close due to lockdown and subsequently lost their venue. This was media hook no.1; local restaurant evicted from premises given new home at Moda.
The second media hook was that, at 100m high, the pop-up was Manchester's highest dining venue, as the Manchester Evening News headline pointed out, it was 'even higher than 20 Stories' and offered incredible views across the city and beyond.
To generate excitement around the event we invited in Manchester based photographer Christian James in to capture the view from the penthouse. His shot was shared far and wide as, not only was it a stunning photo, it is one of the few that captures the full MCR skyline with all landmark buildings old and new making it unique and iconic shot.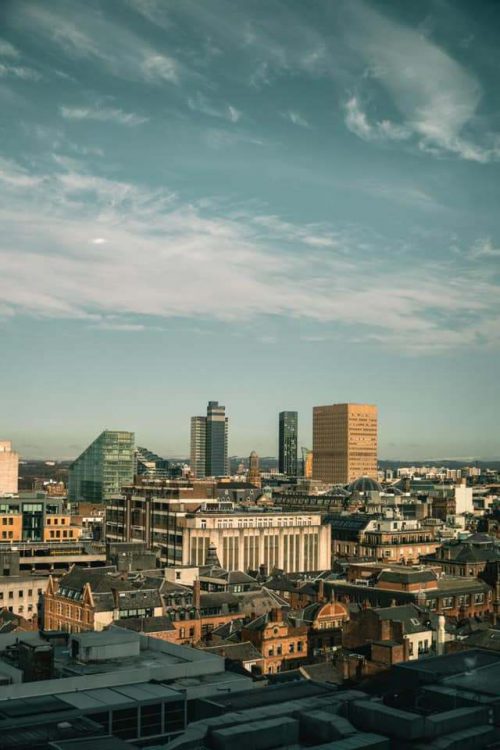 Photo by Christian James
To officially launch the concept, we teamed up with the Manchester Food and Drink Festival who hosted their press launch at our pop-up restaurant. This generated a string of launch coverage and also allowed us to welcome in food and drink media to the penthouses, a sector who under normal circumstances would not have much reason to attend a property launch event.
From there, we took our target event guestlist and split it across the course of three evenings inviting our guests, with their bubble, to attend our Supper Club event. Guests, were given a one-off chance to dine in this stunning setting, capture what has become one of the most iconic shots of the city and enjoy a four-course meal served using fresh northern produce with a special selection of paired wines to accompany.
To further extend the reach and talking points we opened up the restaurant to paying guests. First, was an evening exclusively for Moda residents, which was followed by three ticketed events for members of the public which sold out withing 24hours of going on sale due to the excitement created around the photos and MFDF event.
Hosting an event in a year when events were banned got everyone talking, from comments on social media to media features, the conversation around what was happening at Moda was endless.
Most importantly for our client, we created numerous talking points which led to a significant amount of coverage and content; Giving a 'homeless' restaurant a space from which they could operate, Creating the Highest Restaurant in Manchester, the iconic photo which was shared again and again, Inviting media and influencers to an event at a time when events were mainly virtual.
The changing rules certainly made things tricky, but the campaign demonstrates that with creativity, engaging conversation is always possible.