New Apps
According to Statistica, in 2020, users downloaded 218 billion mobile apps compared to 140.7 billion apps downloaded in 2016. It also seems that the types of apps downloaded seems to have shifted. Take the new Clubhouse app launched in 2020 as an example. This is an exclusive invitation-only app with the best way to describe it as being a mixture of a podcast and social media platform. This is because Clubhouse is a drop-in audio chat app which facilitates conversations on various subjects, such as: workshops, sermons, planning a party and much more. Over the last year its popularity has grown exponentially due to increased celebrity interest. Another reason could also be that people just want to connect after such a long time staying inside!
New Social Media Features
As with everything, the pandemic caused people to hit pause on love and dating in 2020 and 2021. However, this didn't stop people from seeing what's out there with the amount of Brits signing up to new dating apps having increased by 7% over the course of the last year, according to YouGov. Not one to be left behind, Facebook introduced its new dating feature in October 2020 which can be found on the same Facebook app for users' ease.
Video conferencing has become essential to homeworking life with apps like Zoom and Microsoft Teams taking the lead but with Facebook not far behind with the launch of Facebook Rooms. Competing with other popular video conferencing apps, Facebook Rooms, which allows video calls between up to 50 people, also comes with 360-degree augmented reality background filters for when you really don't have the energy to tidy your room first thing in the morning.
Facebook-owned Instagram has been very kind to creators in the past year with the introduction of two new features: Reels and Guides. Reels allows you to create 15-second fun videos with an endless array of popular music and filters to choose from to make your creation eye-catching and memorable. Creators and businesses have been taking full advantage of Reels for product launches and demos; tutorials and collaborations with influencers, with the overall aim of getting their product in front of new eyes. Guides is a way for creators to store curated content in one place (on their profile) for their followers or customers to easily digest.
Here is where Guides are located on Instagram.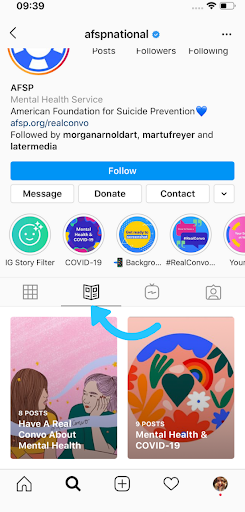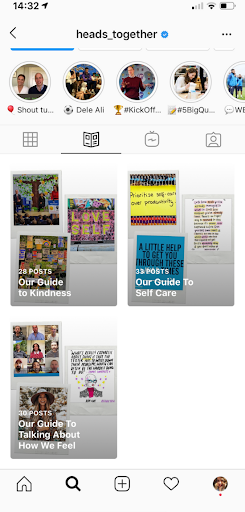 Social Media Trends That Are On The Rise
Memes: Call it boredom, call it a distraction from the never-ending supply of pandemic-related news, but, for whatever reason, memes increased by 26% in 2020 compared to 2019, according to Obrelo.
Videos: Already a massive hit over the last year, with video streaming in particular having seen a massive surge, the industry is expected to grow by 20.4% over the next few years (Obrelo).
Growing platforms: We all know that Facebook is a global force to be reckoned with but over the course of the last year we've also seen some emerging platforms step up to the next level, such as apps like TikTok, which has moved beyond initial popularity with Gen Z and started attracting the attention of millennials and adventurous Gen Xers (particularly those who spent lockdown with Gen Z children at home).
Stories: They started on Snapchat and now all the big platforms are using them. Why are they so popular? Because they allow people to upload content that disappears within the 24 hour mark to allow for limited-time updates.
Social commerce: With shops closed and restrictions imposed, people are taking up online shopping as a hobby, helping to create a greater space for ecommerce apps to flourish. An example of this is Instagram Shop, where shopping is so easy, shops will come to you! (through ads).
Messenger apps: People are finding new ways to communicate and what better way than through messenger apps.
Customer service through social media: If you think about the amount of time people are spending on social media, it's only right to think that the best way to support your customers and answer their queries is through these platforms.
Viral Trends
Tapping into viral trends as a brand will generate interest in your brand but, if you do this, you should always ensure you can adapt these to your brand, so you are keeping what you are creating relevant and that it doesn't backfire on your relationship with your customers who may end up thinking you are being disingenuous.
A way of doing this is by taking a look at these viral trends on TikTok at the moment and seeing if they could be relevant to your brand strategy.
Do you need help with your social media content? Contact us here.