We Invented the Weekend is a bold and imaginative free festival for the North, from Salford, which promises to offer consumers a chance to experience a range of activities at a brand-new two-day event taking place on Saturday 3rd and Sunday 4th June 2023.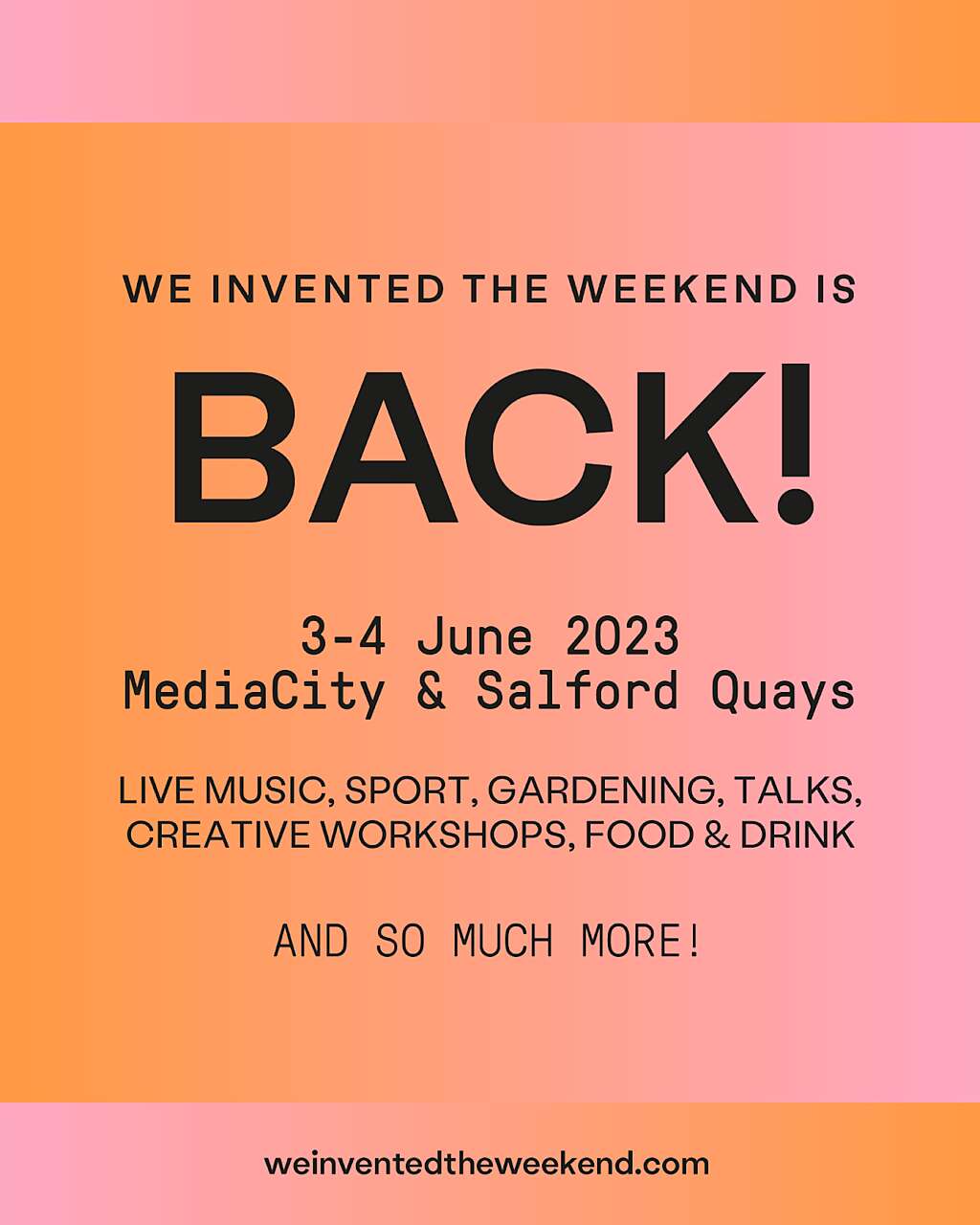 The festival will throw open MediaCity and Salford Quays' spaces and places, to celebrate the joy of free time, taking in sports, music, comedy, theatre, dance, workshops, talks, food, charity, wellness, crafts and more.
Carousel was tasked with raising the profile of the festival and spreading the word that the weekend is a state of mind, not a fixed date. To achieve this, Carousel worked with Ipsos to conduct research into consumer spending habits in light of the cost-of-living crisis.
This research* revealed a Cost of Weekend Crisis, with 1 in 3 Britons planning to do more free activities local to their home this year compared to last year, whilst a similar proportion expect to go out socially and do fewer paid local activities in a bid to boost stay-at-home saving.
Among those who say they're planning to go out less this year compared to last year, the main reasons for saying so involve being unable to afford outings and needing to save more generally. The top reasons for staying in over the weekend include the need to save or bills and daily expenses (50%), being unable to afford social activities (43%) and saving for longer-term purchases i.e., getting on the housing ladder or going on holiday (32%).
The research has highlighted that public perceptions and attitude towards weekend activity has changed as a direct result of the cost-of-living crisis. Consumers are spending more on energy, fuel, food and resources, so have less money to spend on socialising, entertainment and seeing friends & family at the weekends.
With this in mind, Carousel presented We Invented the Weekend as an opportunity to alleviate the Cost of the Weekend crisis and allow festivalgoers to meet new people, try new things, and make memories together.
The team has so far secured 16 pieces of coverage for the research with a reach of over 20.4m. Highlights include coverage in Daily Star, Prolific North, Business Manchester, Business Cheshire, Nation World News, Manchester World, Secret Manchester and About Manchester.
*Research conducted by IPSOS on 1,000 British Adults aged 18-75, between 25th – 26th January 2023. Wider additional data is available upon request.
If you would like to get your festival or event in front of national and regional press, get in touch to see how we can help here.