The Brief
Flip 'L.O.L.' 180 degrees and you get 7.0.7., aka 7th July. This date has become the go-to moment for social media fans to celebrate their love for our doll client L.O.L. Surprise. Each year Carousel is challenged to coordinate an eye-catching PR and social media campaign to bring surprise and delight to fans while also highlighting the brand's latest exciting launches.
Take 2021 for example, when we hosted an entire day of Instagram and Facebook competitions at 7 minutes past the hour every hour, driving a surge in social media engagement and enlisting celebrities and influencers to spread the word and maximise brand reach.
This year, we were tasked with launching L.O.L.'s new Fierce doll range, bringing back much-loved characters in a new look that's fresher, fiercer and more fabulous than ever, while also cross-promoting the wider L.O.L. range and reigniting fans' love for the brand.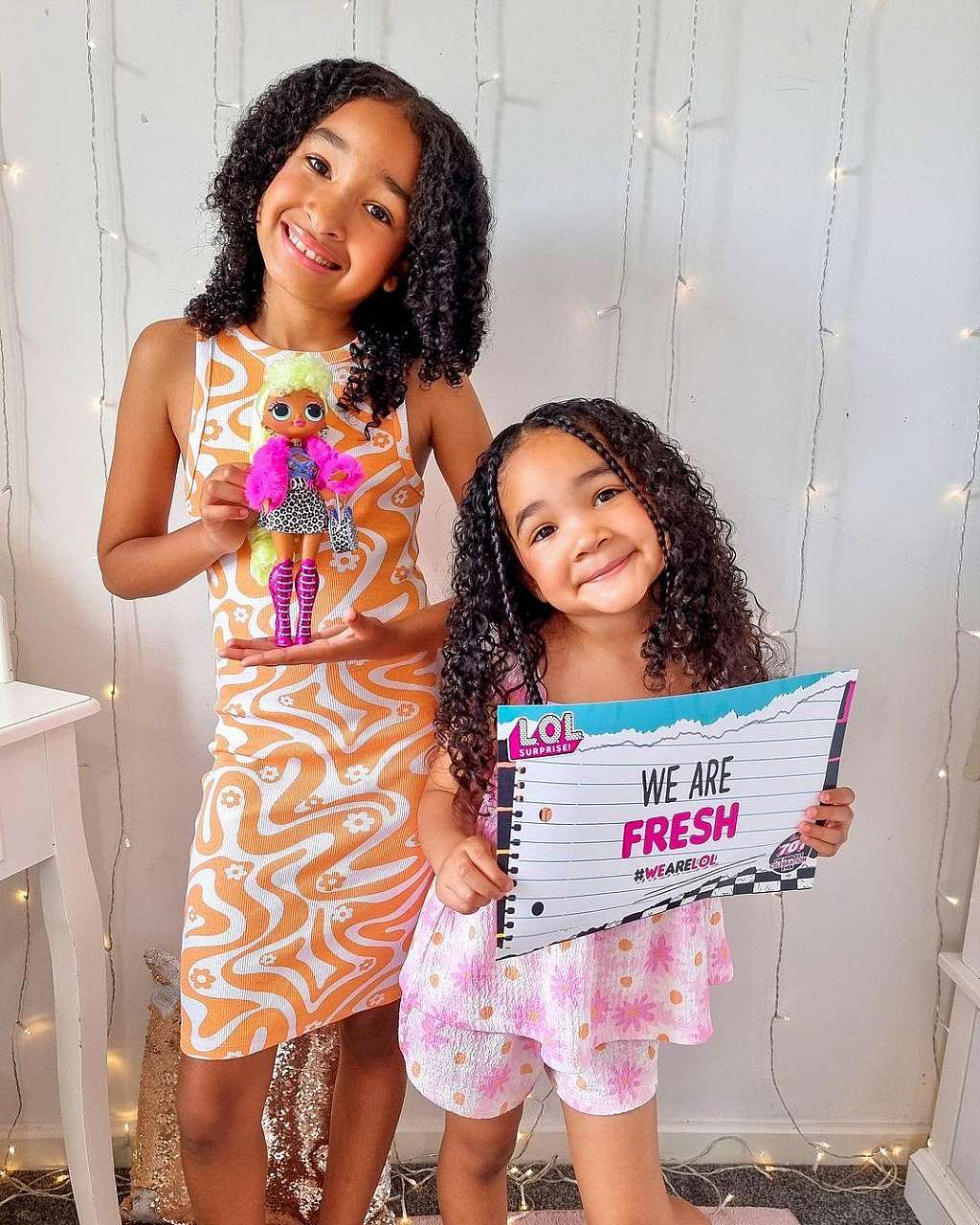 Our Response
The social media marketing landscape moves fast, and Carousel keeps a constant eye on evolving trends to ensure our strategies always target the formats, channels and trends likely to deliver best for our client brands. Since 2021, Instagram's algorithm had shifted strongly towards prioritising reels and we were keen to make this compelling video format key to our 707 approach.
We also knew that leveraging influencer marketing continues to be a highly-effective approach to maximise reach and awareness and would form a key element of our campaign. However we were also keen to ensure the strategy felt inclusive and that real families felt empowered, not left out.
In response, we sent out themed mailers complete with toys and party supplies to 10 dedicated L.O.L. micro-influencer mega fans, including Esme & Edie, Rana 04 Lena and Coco Amore, to generate free of charge content ahead of 707 day. We also secured partnerships with celebrities to maximise visibility, including Ferne McCann, Imogen Thomas, San for Short, Rachel Adedeji and Inspiring Vanessa. Our choice of partners was crucial to maximise authenticity, ensuring we included both parenting-focused family channels and young role models children could look up to.
All of our influencer partners were challenged to finish off a sign with a word or phrase to describe what L.O.L. Surprise stands for to them in order to empower and inspire the next generation, with examples ranging from 'we are inclusive' and 'we are ambitious' to 'we are fearless.' Carousel's content production team then edited the footage to create a dynamic, fast-paced reel combining all the influencer's answers to highlight to fans exactly what L.O.L. Surprise stands for.
As an extra thank you for L.O.L. Surprise's loyal fans, we also created bespoke L.O.L. Surprise phone background designs for fans to try out at home, and hosted a large-scale giveaway to win all the top L.O.L. Surprise toys, simply asking fans to share one word that describes what being a part of the L.O.L. community means to them.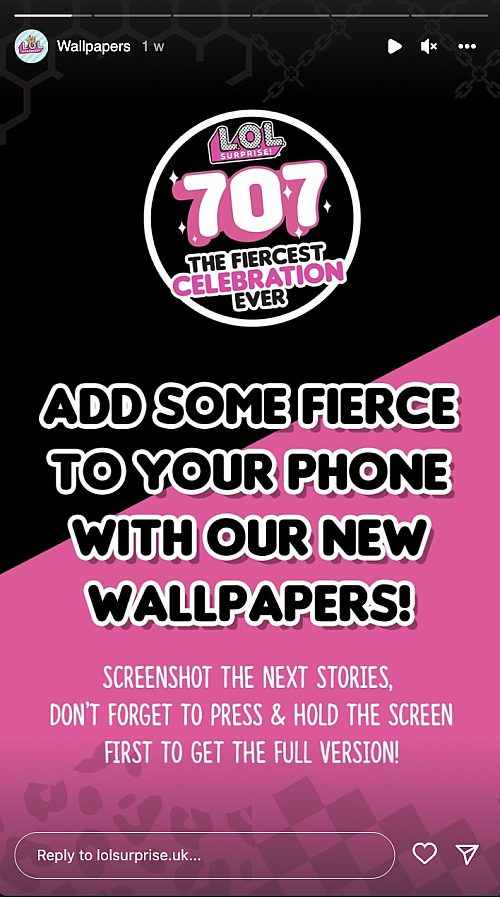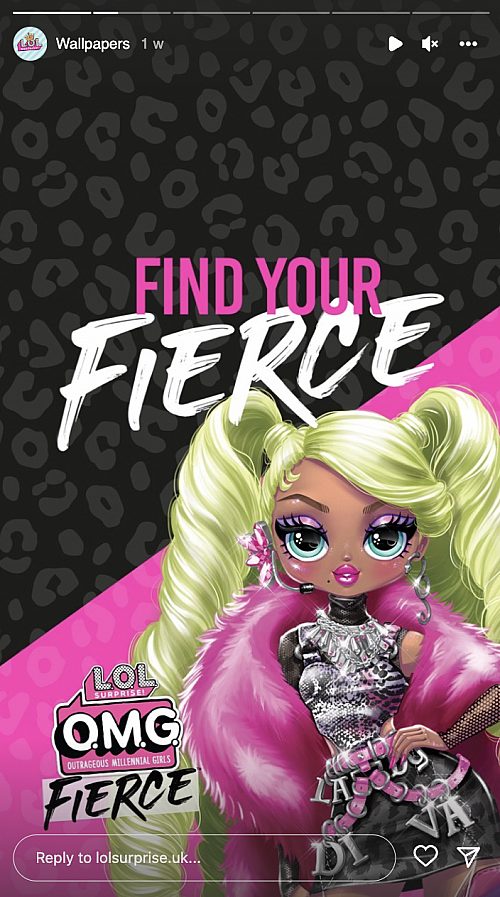 158%
Exceeded PR reach KPI by
The Results
The campaign was a stand-out success, generating 30+ pieces of influencer coverage and a press feature in Toy World magazine, enabling Carousel to exceed the total reach KPI by over 158%.
Likewise on social media, the video views KPI for the campaign was exceeded 34 times over, achieving over 240k Instagram reel video views. This was in part due to a strategic decision to ask influencer participants to reshare the final edited reel from the brand's page, rather than posting their own clips separately. This not only created a more unified brand message, but also maximised traffic to the brand's own profile to introduce new target consumers to the brand.
Meanwhile, the competition element drove over 1.5k social media engagements for the brand and the Story views KPI was exceeded by 81%.
This campaign not only created large growth for the social media channels and spreading awareness of L.O.L. Surprise!'s empowering spirit, but it continues to remain relevant and has won an award for best Family & Parenting Campaign in the Global Influencer Marketing Awards.
Is it time you took your PR, Social Media and Influencer Marketing in a fresh new direction to deliver stand-out results? Then get in touch.