The Brief
Beginning in Spring 2021, we were challenged to ensure Cotton Traders' seasonal clothing line launches cut through the noise and fierce competition in the fashion sector to reach their target audience of stylish and quality-focused women aged 40+. The campaigns needed to deliver widespread reach and awareness to keep the Cotton Traders brand name top of mind, but also ensure this interest converted to site traffic and sales for the new collection, particularly with ever-changing Covid restrictions placing uncertainty over store footfall. It was important to combine social media marketing with a strong PR hook to reach consumers across all key touchpoints, from media coverage to their social media feeds.
Our Response
We enlisted model, TV & radio presenter Lisa Snowdon to become the face of our social media and PR campaign. Lisa embodied the perfect mix of being a recognisable style icon, including for Cotton Traders' more traditional customers who aren't following the latest Instagram fashionistas, while also remaining warm and approachable to appeal to less fashion-confident consumers. With a wealth of television hosting experience, we knew she had the charisma and instant charm needed to engage an audience and create highly genuine content.
We decided on a more authentic production route with Lisa shooting a to-camera video in her own home talking through her top 5 looks for the coming season from the Cotton Traders collection, making the campaign highly cost-effective and lockdown compliant, but also more relatable for the audience. Lisa was given the freedom to be her animated self and choose what to say about each look as we know consumers value real opinions over influencer marketing content which feels false and inauthentic. She also shot still photography of each look in her home and garden, giving customers a relatable view of how Cotton Traders' looks could fit into their lives and avoiding airbrushed studio shots.
To maximise the impact of each launch, we ran social media teaser content and Instagram Story countdown stickers in the days leading up to the reveal of Lisa's top 5 looks for the season ahead. On the day of reveal the video was shared across Lisa's own Instagram as well as the Cotton Traders channels, and was supported by targeted social media ad spend to boost viewership within the core target demographic. This was followed up by Instagram Stories and boosted stills photography featuring highlight looks alongside how-to-style quotes from Lisa to fuel engagement and fan conversation across the brand channels. Meanwhile, off-page social media ads promoted the video and a 5-look shoppable carousel ad with a click-through objective to maximise traffic to the Cotton Traders site and convert interest into sales for the new collection.
Alongside the social media campaign, Lisa's content was also sold in to Carousel's PR contacts to land the brand coverage across 11 high reaching titles including The Daily Mirror, Liverpool Echo and Newcastle Journal.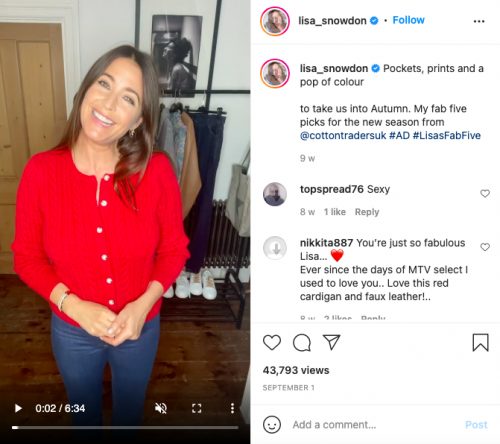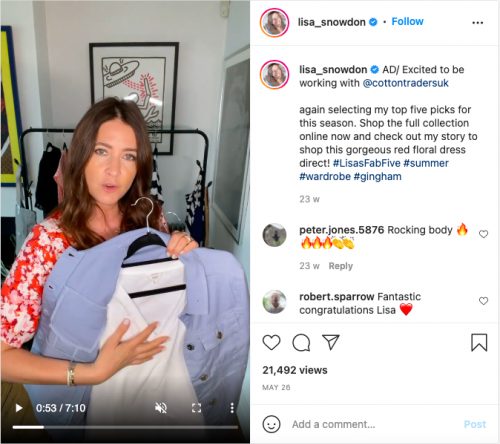 275k
Video views across Cotton Traders channels & Lisa's IGTV
21k
Link clicks to Cotton Traders site
9k
Social Media engagements on Cotton Traders channels
The Results
All three seasonal campaigns delivered over 21k clicks to the Cotton Traders site at the lowest cost per click ever registered for Cotton Traders social media advertising, equivalent to a quarter of the average price for the brand. This in turn fuelled instant spikes in sales around the video launches.
Over the course of the three phases, the campaign delivered over 275k video views across Lisa Snowdon's IGTV content and the Cotton Traders social media channels, and generated over 9k reactions, comments and shares on the Cotton Traders' channels.
In addition, the campaign also delivered a total PR reach of over 1.5 million.
Ready to let us find the right influencer partnership to drive cut through and sales for your brand? Then get in touch.