The Brief
We were tasked with launching the new Little Tikes Little Baby Bum range of products to key media and influencers to drive awareness of the new range and communicate the association with Hamleys as a key retailer for the Little Baby Bum range of products. Our brief also included working with a well-known and recognisable celebrity who would launch the range at our event.
Our Response
We worked closely with Hamleys to reimagine their event space in store. We wanted to create a WOW moment for the media but given the size of Hamleys we had to ensure our Little Baby Bum launch event wasn't lost amongst all the other brands in the store.
After an initial meeting with Hamleys our event team set about sketching out our vision for the space, how we'd incorporate the Little Baby Bum characters and bring the brand to life and engage with guests (big and small). After an initial design was planned, we went back to the drawing board as we felt we could make the event space even more impactful, following another call with Hamleys we'd confirmed the design and space for the launch event.
As the event design was taking shape, we set about confirming Gemma Atkinson, Mum to Mia, as our celebrity ambassador for the launch. Already a huge fan of the brand Gemma and Mia were the perfect choice, and we were thrilled to welcome Gemma, Mia and partner Gorka to their very first media event as a family. Working with Gemma ensured we had a media hook that generated a number of national hits on the back of the event.
We worked closely with the in-house designer at Little Tikes who brought the space to life by creating Little Baby Bum themed pop-up stands, vinyls and Little Baby Bum themed backdrops that made guests feel like they were well and truly stepping into the world of Little Baby Bum. A balloon wall made for an impressive entrance and the perfect spot for a picture to share on social, we worked with Sharky and George who delivered a themed cookie making and colouring session with the kids, lifesize Little Baby Bum characters were on hand for photo moments, a stage with presenters singing and dancing to the well-known songs from the hit You Tube Channel got kids (and adults) on their feet, we had a 3D photo booth with guests to use at their leisure and we treated all attendees to a delicious Little Baby Bum themed breakfast.
Despite there being a weather alert in London with the arrival of Storm Ciara on the weekend of the launch (like that could ever dampen our spirit!) we managed to launch Little Baby Bum with amazing success.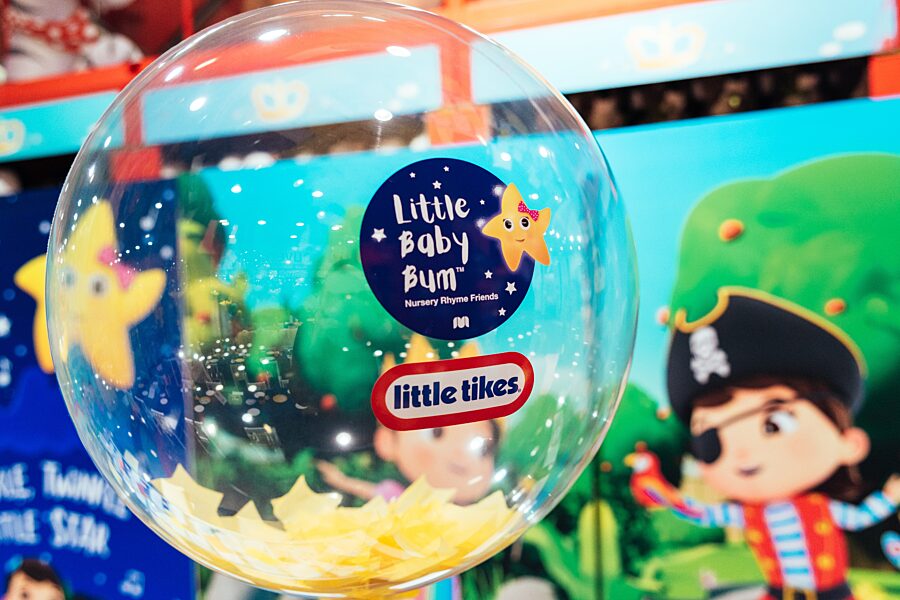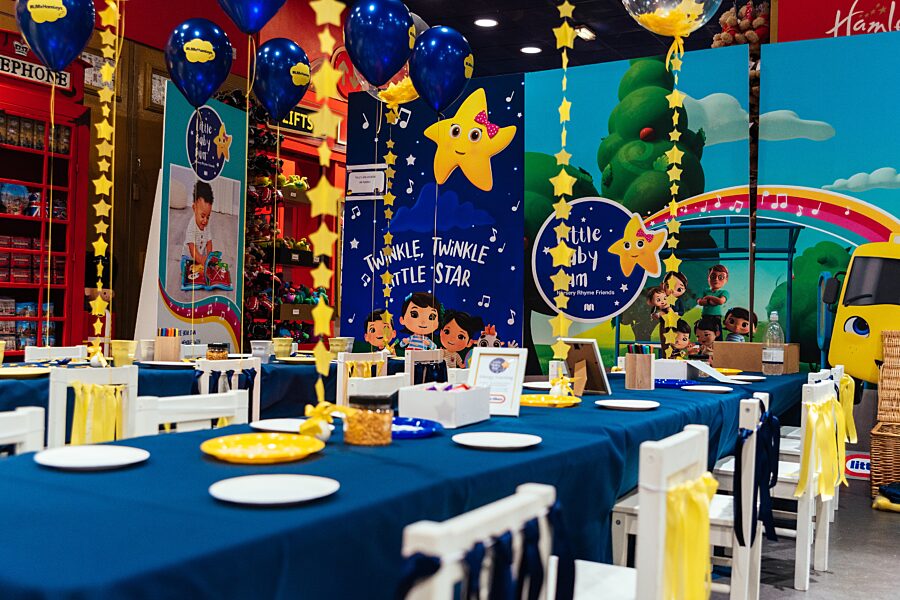 41.2m
Total campaign reach
3
Pieces of national coverage
The Results
We were beyond thrilled with the launch event, we exceeded our KPIs on attendance, reach, number of social posts and national coverage.
Over 60 media and influencers attended with their little ones and they all stayed for the whole event, proving how engaging it was. The event generated over 100 social posts with attendees capturing the fun they were having (and tagging Little Tikes and Little Baby Bum, extending our social reach even further). Gemma, Mia and Gorka's attendance ensured we generated three national hits with OK! and Hello magazine covering her attendance as well as The Daily Express and toy trade publications.
Do you need help with a launch event? Click here to see some of our other events and to get in touch.